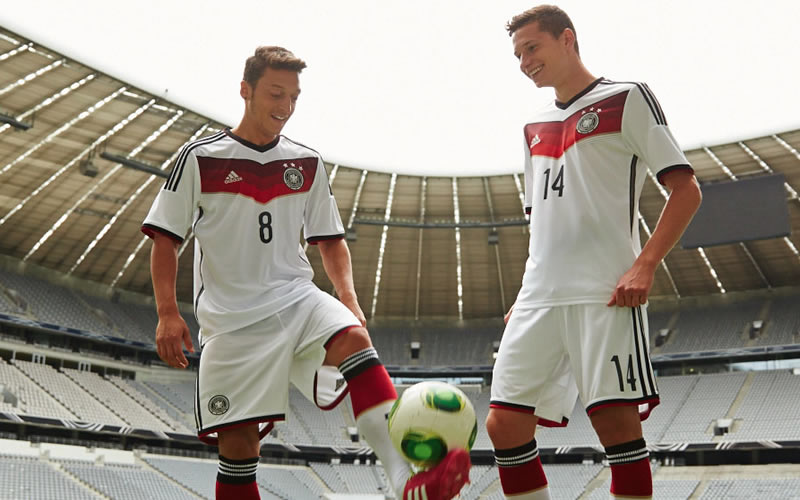 So it's about time this website had a comment on it, for posterity, and what better place than my blog to lay my own cards on the table. I am, of course, talking about the controversy that is the new trend for one-colour kits, just in time to be worn by several, and it may even turn out to be all, participants in the 2014 World Cup in Brazil.
Before I go any further, I should point out that the opinions expressed herein are those of the author - me - and do not necessarily reflect the views of DesignFootball.com as a website and a collective.
So, here we go. To list them: Spain, Germany, Argentina and Colombia (despite the last two not technically having one-colour kits) are the main "culprits" (so far). Spain, romanticised as wearing red shirt, blue shorts and black socks - though they probably haven't worn that combination for 20 plus years - will wear all red at Brazil 2014. Germany, immediately recognisable in their white shirts, black shorts and white (or is it black...um...white...yeah, white) socks, now have a white shirt with a melange of reds chevron, white shorts and white with red and black socks. Argentina, with the sky blue and white stripes, black shorts and white socks usually, now have - SAY IT AIN'T SO - white SHORTS (and black pairs of Home change shorts and socks). Finally, and this one may truly stop the world spinning, Colombia have ditched their blue shorts for white ones, and replaced their blue socks, which replaced their red socks (do keep up), with white socks with yellow and blue bits. Nooooooooooooo etc.
If you detect facetiousness, you're bang on. It does seem as though adidas, or Fifa, or a combination of the two (Fifadidas?) are phasing out these supposedly traditional strips and replacing them with simpler, "monochromatic" (if I NEVER read that word again...) versions and, whilst understanding that for supporters of the countries affected this development may be difficult to take, I just can't bring myself to care.
To recap, that wondrous idea of Spain wearing red-blue-black is way off reality. For years they've worn blue shorts and socks, more recently the socks have turned red, and even in a recent game against France they went with red (change) shorts too, presumably as a tester for the new release. It's surprising, it's a break with tradition of sorts, but it's not all that drastic.
Germany is a little bit harder to take, granted, with the double whammy of the black shorts going and the introduction of the chevron (why?) mainly in red (though it does have gold and black edges, flag-incorporating kit fans) rather than a stark block of black which, from a distance, may have maintained the traditional impression via the proportions.
Argentina, that's a tough one too, even if they did used to wear grey socks back in the day, and Colombia looks a little odd as well, though they've played around with their kits over the last thirty-odd years.
It is, admittedly, a noticeable shift, so why don't I care? Well, firstly, because it's not my job to. I'm a bit Spanish, but not much, I'm not Argentine, I'm not German and I'm not Colombian. If people who care about those teams are angry then they should do something about it, but if they don't care enough - something that could be levelled at Cardiff fans who have succumbed to a far greater insult to their traditions in their long-standing blue shirts being scrapped - then why should I get up in arms about it? If they don't want it to happen then they should picket their federations, adidas, Fifa or whoever else is going to made the scapegoat. I'm not going to do it for them.
On the other hand, there are plenty of issues that are none of my business that I do get all hot and bothered about. So the other reason why this doesn't provoke that reaction, for me, is that, secretly, I'm quite in favour of the move. As a Liverpool fan, I have a soft spot for teams moving to one-colour kits (Bill Shankly, a "ten foot tall" Ron Yeats and all that) but even without that bias, I understand what Fifa - if they are to blame - are trying to do.
The World Cup, for most people, is about getting fervently nationalistic, once every four years, for a couple of weeks. I watch football live, two or three times a week. It's not as much as I used to, but I watch it regularly. The majority of people who will watch the World Cup will watch it on television, and they will not be regular viewers of the sport. You are not preaching to the converted and for them to truly buy in to the product you are selling, you need to package it correctly. For people to keep watching once their country is knocked out - to keep tuning in, to keep seeing the advertising boards and the commercial breaks and the adidas kits - then they need to be spoon fed. Make no mistake, if it's more trouble than it is worth then people will not commit. I might - it's the World Cup eff eff ess, even if the last one was a snoozefest - but will middle-aged women? Will six-year-olds? Will investors from oil-rich countries?
So what's my point? OVERALL CLASH, MOTHERCRUSHERS! "Friend of the site" Denis Hurley came up with the term but, seeing as he told me the other day that (when 1=red and 2=white, for example, in a kit of shirt-shorts-socks) 1-2-1 versus 2-1-2 is not a clash, I'm appropriating it for the good of society. All Fifa is doing is aiding television viewing. It is easier, in terms of distinguishing the sides, to watch a team in all red play a team in all white than it is to watch a mix of crossed-over colours spread between the different elements of the kit. Don't believe me? Again, I don't care, but you don't even have to take my word for it. There's been a study, y'see. A study by researchers from Aston University (hmmm) and the University of Birmingham (oh! Ok then!) has proven that it will take longer to identify players from respective teams if there is some crossover of colours between the two. So there.
To continue to use the examples of red and white, rumour has it that the one-colour kit "rule" (to be used in combination with more transparent legislation on "light" and "dark" kits, that Colombia and Argentina are apparently falling victim to) may be strictest when applied to teams who wear red or white shirts - the Germany and Spain examples seem to bear this out, along with Colombia getting away with yellow and white - and it may well be that the study - available in full here - demonstrates that red combined with blue, as is "traditionally" worn by Spain, facing a blue on the opposite side, gives the human brain particularly acute problems. In fact, it does - I've read it. Or perhaps further studies identify the colourblind are most likely to have trouble with red mixed with another colour. Or the more red we see the more likely we are to want a Mastercard, or to drink Coca-Cola. There WILL be method; DO NOT assume this is simply madness.
It's international football. It's a group of players who don't generally like each other over the domestic season, being thrown together and pitted against other nationalities in a time of multicultural and multinational workplaces. It's entertainment first and foremost and if one-colour kits (or "monokits" - © Denis Hurley again. Perhaps Spain are Springfield to Germany's North Haverbrook) are the spoonful of sugar that help the medicine go down then fabulous. We'll be told before kick-off that Italy are in all blue and Germany are in all white - no great leap - and we'll not think about it for the next 90 minutes. France (Les Bleus!) have been wearing all blue for years, despite generally launching kits as Tricolore versions (let's see what they do in Brazil), and England often prefer getting beaten in all white or all red rather than in contrasting shorts.
This isn't Cardiff in red, this isn't Arsenal with red sleeves, this isn't Celtic wearing blue. If anyone cares then good for them, but so far - as alluded to in a brilliant piece by Sheridan Bird - all I've heard is my fellow over-25 kit geeks bi*ching, and we'll still watch the World Cup, regardless of what we claim, and, in marketing terms, we're too old to buy the kits anyway, so any boycott of the merchandise is imaginary. Fifa may be ratcheting up the column inches over this, but if it's backed by science, then it's a no-brainer.

Written by Jay (follow on Twitter).
Keep up to date with news from the world of football design by following @designfootball on Twitter and Liking the DesignFootball.com Facebook Page.